You can improve the quality of your life…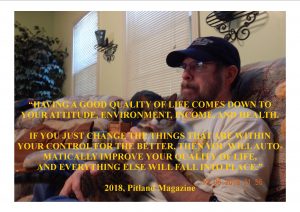 This past weekend I was camping, hiking and biking out in the West Virgina boondocks.  The pic above sums up how I was feeling about retirement and improving the quality of my life.
So what are the factors that affect our quality of life?  An article in Pitlane Magazine (2018) described the following as having the potential to improve the quality of your life:
 Your environment and income –  Money isn't everything, but it really gives you more choices in life;
 Health – Good nutrition and daily physical activity almost always result in a better quality of life;
 Social life – Active people are healthier, and
 Attitude – Optimistic people have a positive outlook on life and experience a better quality of life.
So, a good quality of life comes down to attitude, environment, income, and health.  Change the things that are within your control for the better and will more than likely improve your quality of life.